Pushkar, the holy city of Brahma (creator of the Universe) or as per my experience, a town of Hindu, Hebrews and Hippies. I visited Pushkar last month as I was on my way toward Jodhpur via Jaipur.
Now there are many historical facts about Pushkar & the most common ones are:
It's the only city of India where Brahma temple is. (not completely true)
The city is more than 2000 years old. (somehow true as it was destroyed in the attacked by Mahmud of Ghazni – 11th century. So, it has a written history of 1000 year's).
Only town in Rajasthan which has rose farms.
And as Goa relates with Russian, Pushkar is attached with Israeli's.
Well for more history lessons, check out this link from Wikipedia. As per me, Pushkar has three aspects which I experienced, and those are:
Endless Temples
Pushkar has temples which are like 200 to 2000 years old. The oldest ones are Brahma Temple, Old & New Rangji Temple, Savitri Temple (which is outside the city & on the top of a hill), and a historical Sikh Gurudwara where both Guru Nanak & Guru Gobind Singh visited.
> Gurudwara Singh Sabha
I entered the city from the eastern side, so Gurudwara Singh Sabha was my first stop at Pushkar. The entire compound of the Gurudwara is made up of white marble stone and it's was a delight to capture some photographs. Have a look.
> Rangji temples
Just 10 meters away from Gurudwara Singh Sabha, there is New Rangji temple. First I took some pics from out side as cameras are allowed in the temple.
Later I went inside the temple which is dedicated to an incarnation of  Vishnu (known as Rangji) and I must say that that this temple has some great stone work done on its burj (top end).
After chatting with some guards, I came to know about the fact that many temples in Pushkar are owned or maintained by some top industrialists, even the guards are from private firms. And if these temples would have been under the control of the local government, then they wouldn't have been properly looked after.
Well, I must mention that both new & old Rangji temples (the old one is in the center of the city) are a delight to explore, but not many pilgrimages come here. I mean I was the only one on the temple. (As in the care of Brahma Temple)
Don't know why, but, it worked for me as I was able to get some good shots (from outside) and a few from inside with my iPhone.
> Brahma Temple
So after wandering for an hour, I finally reached Brahma temple which is sponsored by Bank of Baroda.
What???? Yep
This is for the first time I have seen a historical place having an advertisement board on its entry gate. Have a look at this picture.
Well, this is a mood killer and even the management inside was horrible. This is the main attraction of the city, but the administration has made no efforts to maintain the temple properly.
Never the less, I did capture these pictures for my collection. Have a look.
Ghats of Pushkar
The second aspect of Pushkar is its Ghats.
There are like 52 ghats, and I decided to stop at Gau Ghat which is famous because it is said that Mahatma Gandhi ashes were poured here.
Well, Gau means Cow, and there are quite a few over here. Now don't get surprised if a priest comes to you and start suggesting some prayers which might reserve a seat in heaven for your ancestors or you.
It's up to you to get involved in such prayers, because as per me it isn't going to do any good for you as it's your karma points which decided what sort of future you will have.
And don't say this to the priests because they will get hostile as they got with me.
Nevertheless, the Ghats in Pushkar are the number one attraction and the sight from here is astonishing. Just have a look at some pictures I took from the Gau Ghat.
Markets of Pushkar
And the last aspect of this holy city is its markets.
Now Pushkar is a small town. I mean you can even walk the entire city under an hour, and I suggest to visit its Sadar Bazaar market, which is just next to the lake.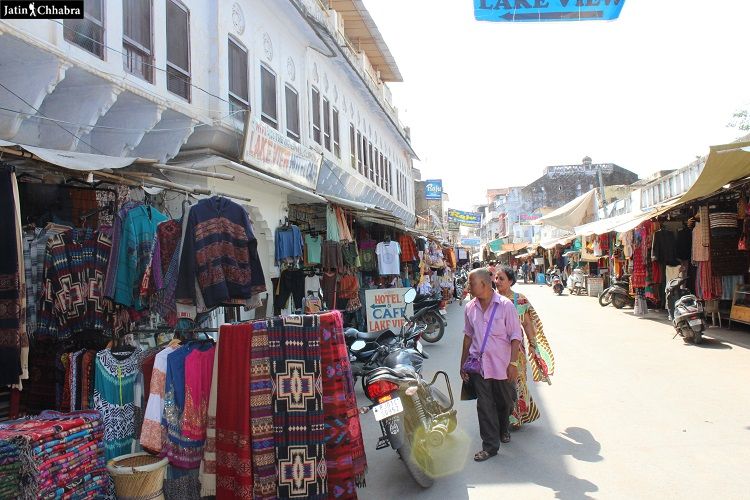 There are so many things here that it's almost impossible not to buy something from here. You can get local perfume, t-shirts with Hindu & Hollywood characters (quite unique), brass handicrafts, colourful clothes, cushions, strange bed sheets, etc. at dirt cheap rates.
Just have a look at these pics I collected from the Sadar Bazaar market.
How to reach
I reached Pushkar from Jaipur in a cab which cost me INR 2000 ($28), and it took three hours which could have been a bit less if the final 5 km weren't under maintenance.
If you are planning to reach here via train or air, then you need to land at Ajmer Railway station which is just 15 km and the closest airport is Sanganer Airport, Jaipur which is 150 km.
Road condition from Jaipur to Ajmer is quite good, and I also stopped at this small restaurant on Jaipur Ajmer highway for breakfast (Khyber resort).
Best time to visit
Best time to visit Pushkar is in November, as an annual Pushkar Camel Festival is organised here which is attended by millions from all over the globe.
Accommodation in Pushkar
Pushkar doesn't have many modern-day hotels. But you can check this link from Tripadvisor India to check a few which are just ok. FYI, I didn't stay here as I needed to drive towards Jodhpur which is a 6-hour journey from here.
But nevertheless, Pushkar is worth visiting as its one of those unique cities in India which doesn't care where its travellers arrive from.