Bundi Tourism Guide by Jatin Chhabra
Bundi is a southern city of Rajasthan which is also known as the "City of Stepwells" as there are more than 50 baori/ bawdi (Step wells) in this beautiful town. In this guide, I have presented all the must see tourist place, accommodation options, transportation options and best time to visit.
All these points are written by me (Jatin Chhabra) after exploring the whole city in August. I hope this guide would be useful to all who are planning to explore Bundi soon.
Places to visit in Bundi
In every tourist city, there are 100's of places which a traveler can see, but out of these 100's a few selected gems rated as must-see attractions. So some of the must-see tourist attractions in Bundi are:
1. Bundi Palace
The most beautiful structure in Bundi which can is seen km ahead from Kota-Bundi Highway, and especially a fantastic view from Naval Sagar (one of two lakes in the city), is Bundi Palace, also known as Garh Palace.
Located on the downhills of Taragarh Fort, Bundi Palace has many mansions and some of the best painting in its eastern part which is known as Chitrasala.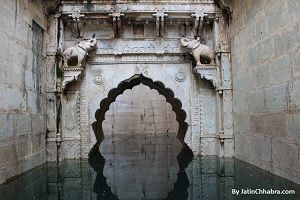 2. Raniji Ki Baori
As Bundi is known as "City of Stepwells", Raniji Ki Baori is the queen of all these stepwells. Raniji Ki Baori or the Queen baori is a three storey stepwell, built by a queen of Bundi in the 17th century.
This site has amazing architecture work like its arch gates, marble elephant statues and the grand third-floor gate which is a delight to watch. Click the button below for more information & images.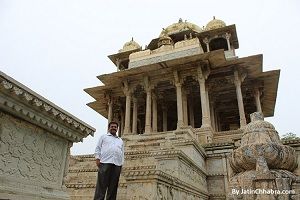 3. 84 Pillared Cenotaph
84 Pillared Cenotaph or as locals say Chaurasi Khambon ki Chhatri, is an 84 pillar temple build by a Maharaja of Bundi to honour his foster brother Shiva. This site is more of a tourist site, then a temple and is under the care of ASI.
The main attraction of the site is its crafted wall statues, a lovely painting on the ceiling and the white marble Shiva linga. Click the below button for more details & images.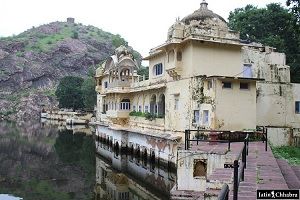 4. Sukh Mahal
Sukh Mahal is a small palace on the banks of Jait Sagar (a lakes in Bundi). Sukh Mahal is also very famous among the fans of famous writer Rupert Kipling, author of Jungle Book.
Though this is a small palace, yet the view from this mansion is magical. On Jait Sagar, one can clearly see natural lotus flowers & mountains ranges on all side. For more details & images, click the below button.

5. Other & nearby attractions of Bundi
Apart from the four tourist sites, you can also visit the bazaars of Bundi, which is just next to Garh Palace parking. You can check this post which shares some images of Bundi Streets – Click here. Then there are two lakes of Bundi, the Naval Sagar & Jait Sagar Lakes, a stepwell name Dhabhai Kund (near Raniji ki baori) and Shikhar Burj, which is private property – images in this article.
Apart from these, you can travel 40 km to see the Jag Mandir temple and Seven wonder park in Kota (External links added at the end) & another 40 km will land you at one of the best natural wonder of Rajasthan – The Chambal Ghati at Garadia Mahadev Temple. A 500 feet cliff which is the entry point of Chambal Valley – Click the below button to view more images of this site.
Map of Tourist Sites in Bundi
Map of Tourist Sites near Bundi
Bundi Hotels/ Accommodation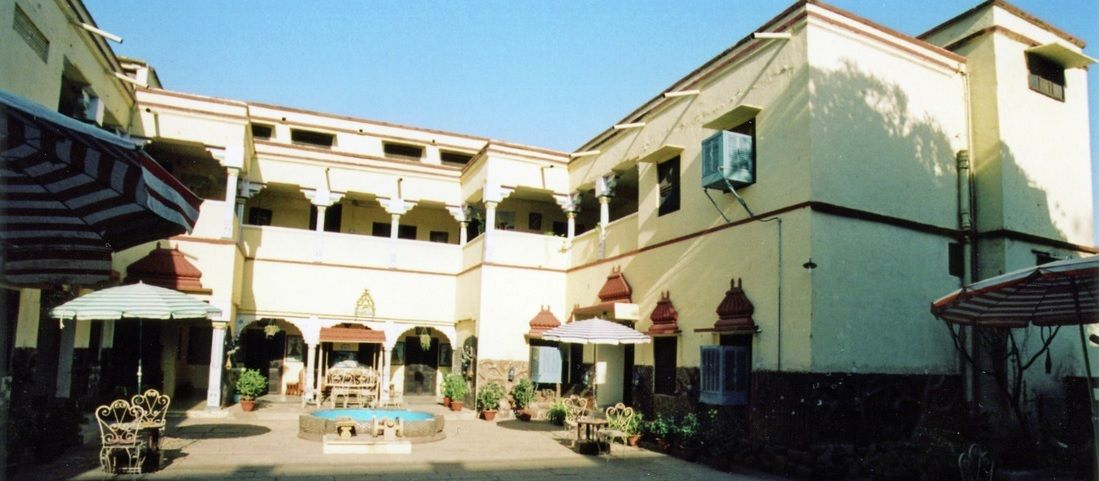 At Bundi, you won't find any chain hotel like Park Plaza or Holiday Inn. So, you can stay in some fine Haveli or a heritage hotel. A few suggested hotels and resorts in Bundi are:
Bundi Haveli
Hotel The Hadoti Palace
Ishwari Niwas Palace
Another option is to stay at Kota, which is 38 km from Bundi and it takes an hour to reach in a taxi.
How to reach Bundi, Rajasthan
You can reach Bundi by train or Road, not by air as the nearest airstrip is Jaipur Airport, which is 250 km away.
The best way to reach Bundi is by train as you can catch one from any major city to Bundi and if you can find any good option (Bundi railway station isn't a major station), then prefer Kota Railway station.
Bundi has a train station, but that isn't as connected as Kota Railway station which has direct trains from New Delhi, Jaipur, Ahmedabad, Mumbai, Bangalore, etc.
Sugegsted trains for Bundi/ Kota are:
Marwar Express (12963) which will take 7 hours to reach Bundi from Delhi
NZM KOTA Special (09810) which will take 8 hours to reach Kota from Delhi
Mumbai Rajdhani (12953) which will take 4 hours 30 minutes to reach Kota from Delhi
Rajdhani Express (12431) which will take 10 hours 45 minutes to reach Kota from Mumbai
And if you are interested in reaching Bundi via road, then check the below highway routes:
From Delhi: Delhi-Jaipur Highway and then NH 52 which is Jaipur Kota Highway
From Mumbai: NH 48 which is Ahmedabad Udaipur and then NH 27 which is Udaipur Kota Highway.